Please visit us at www.patreon.com/toddclouser to see Todd's work with communities throughout the Americas, and how to help for as little as 5 dollars.
  The Music Mission announcement :
Hello friends everywhere.
The past three years have gone fast, we have toured fascinating parts of the world and released records, but the most rewarding, teaching, and ultimately meaningful work I've been able to do has been through educating and outreach to communities in need.
Today is special for me as we announce the Music Mission program, to make this important, altruistic, attached to music's soul work a sustainable project. Up to now Ive given hundreds of free workshops, lessons, and directed concerts for communities in need throughout the Americas, but the time has come to see this project for what it can be long term, and committ to it. Thats where we need you. At patreon.com/toddclouser as little as 5 Dollars gets our first documentary release, with the CECAM Orchestra in the mountains of Oaxaca, out to the world and allows us to raise money for a new set of timpanis for the orchestra. The experience with CECAM, living at the school in the indigenous Mixe region of Oaxaca, 5 a.m. rehearsals, afternoon jazz classes, night rehearsal, and to our concert together in Mexico City (the students traveled 14 hours by bus to play) is one I cannot wait to share with you.
Music gave me voice, and at a point saved me. I truly believe that, I know it. Through Music Mission, I am able to give this magic back, but need your help to make this work sustainable.
Please Visit Us at www.Patreon.com/toddclouser to learn more on what your part can be in the creation of new music in collaboration with deserving, and grateful, communities in unique corners of the world.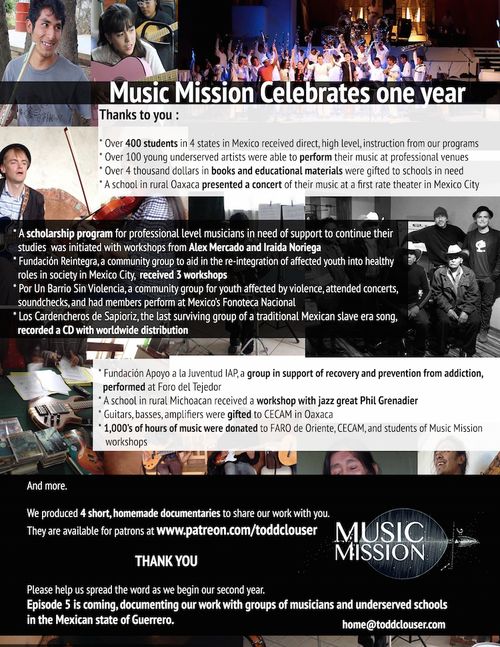 Music Mission - join at www.patreon.com/toddclouser - celebrates one year!
Thanks to you :
* Over 400 students in 4 states in Mexico received direct, high level, instruction from our programs
* Over 100 young underserved artists were able to perform their music at professional venues
* Over 4 thousand dollars in books and educational materials were gifted to schools in need
* A school in rural Oaxaca presented a concert of their music at a first rate theater in Mexico City
* A scholarship program for professional level musicians in need of aid to continue their studies was initiated with workshops from Alex Mercado and Iraida Noriega
* Fundación Reintegra, a community group to aid in the re-integration of affected youth into healthy roles in society in Mexico City, received 3 workshops
* Por Un Barrio Sin Violencia, a community group for youth affected by violence, attended concerts, soundchecks, and had members perform at Mexico's Fonoteca Nacional
* Los Cardencheros de Sapioriz, the last surviving group of a traditional Mexican slave era song, recorded a CD with worldwide distribution
* Fundación Apoyo a la Juventud IAP, a group in support of recovery and prevention from addiction, performed at Foro del Tejedor
* A school in rural Michoacan received a workshop with jazz great Phil Grenadier
* Guitars, basses, amplifiers were gifted to CECAM in Oaxaca
* 1,000's of hours of music were donated to FARO de Oriente, CECAM, and students of Music
Watch Episode 1 -