A Love Electric is a three nationality critically acclaimed power trio born out of Mexico City's jazz scene. In seven years of tireless touring and creative output, Todd Clouser, Hernan Hecht, and Aaron Cruz, all three celebrated artists in their own right, have released seven records on labels in the United States, Mexico and Europe, touring the world creating music on their own terms, performing over a thousand shows on four continents. Power psych, punk jazz, post-genre, freak rock are a sampling of the critics taking aim at  a description of ALE's sound.
  "A savage guitarist, a ruthless drummer, an enormous bassist" - Vive Latino, MX City
  "Fuzzed out guitars and acid rock" - Time Out NYC
  Collaborators
A Love Electric performs regularly with luminaries of the New York downtown scene John Medeski, Cyro Baptista, Billy Martin, a number of Mexico's most daring independent artists from free jazz legend German Bringas to emerging hip hop acts, and alongside communities throughout Mexico, most notably working regularly with young musicians from the Oaxacan Sierra, the pocket brass band "Tlayuda".
Todd Clouser performs with Klezmerson on John Zorn written Tzadik releases "Book of Angels : Amon" and "The Book of Beriah".
"Explosive" - The Prague Post
 "Fascinating" - NPR
Post-genre
A Love Electric has resisted conforming to any established genre identified market, a trend that continues with band's 2020 release, "Permanent Immigrant".  After performances at some of the world's most acclaimed jazz festivals in 2016 and 2017 - from Winter Jazz in New York City to jazz festivals throughout Latin America - the band that taken a decidedly more rock and song oriented approach on following releases, perhaps equal parts self-sabotage and preservation. With A Love Electric is about the dedication to exploring the creative act. Risk, commitment to the music, and a powerful dynamic between the three band members that can only be developed through years of collaboration on stage and off, give A Love Electric's performances a dynamism that has allowed the band to create its own touring circuit outside of established markets, returning year after year to countries throughout Europe, cities in Mexico, and in 2019 for the groups's second China run.
The group is led by guitarist and vocalist Todd Clouser, a Minnesota native now based in Mexico City, where he releases music in a prolific manner, runs Ropeadope Sur Records, the non-profit Music Mission, and is co-editor of the books "Musicians in Mexico City Vol. 1 and 2".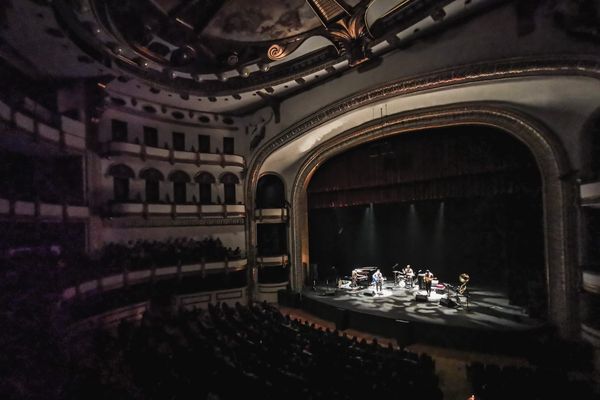 How it happened
The band is fronted by guitarist, vocalist, and songwriter Todd Clouser. Clouser, Kansas born and Minneapolis grown, moved to Mexico City in 2011 after meeting drummer/producer Hernan Hecht and bassist Aaron Cruz. After stints in rehab in the US, time in Boston, Colorado, Minneapolis, US van tours, and records crossing genres, labels, and success, Clouser saw the opportunity to have a real, democratic band, and jumped at it, moving into a small apartment in the Mexico City neighborhood of Portales to be close to Cruz and Hecht. The results have been prolific and fascinating.
The three members of A Love Electric live within a block of each other in Mexico City, a city of 26 million people. Once an instrumental group falling into the jazz genre, A Love Electric has evolved into a vocal fronted rock ensemble while still maintaining the spirit they see as essential to "jazz" : the spirit of discovery, and a dedication to ambitious inquiry. Challenge is what the band embraces, on buses through Northern Africa to indigenous communities in the mountains of the Mexican state of Oaxaca, A Love Electric is out, to discover, cultivate, and share a life of inquiry as the band lives it.
A Love Electric has performed at Festivals from rock giant Vive Latino in Mx City to Solarte in Spain, Winter Jazzfest NYC, and in theaters, clubs and concert halls from The Town Hall in New York City to B Flat Jazz in Berlin, Germany, averaging nearly 130 concerts a year along with working as philanthropists in music education.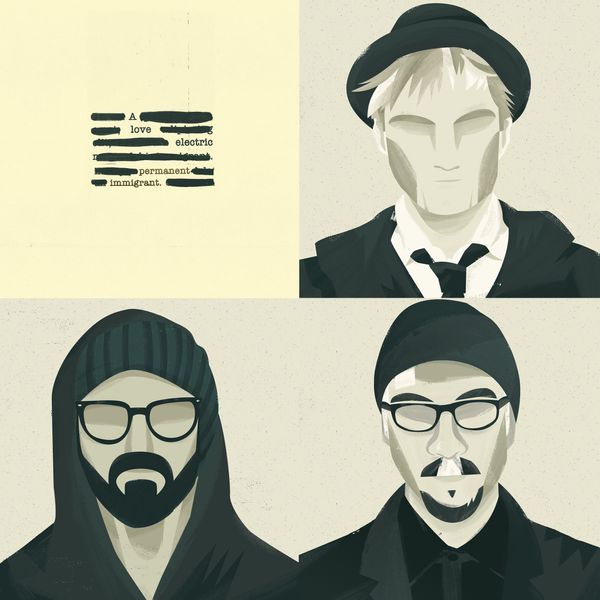 "Permanent Immigrant" (2020)
For 2020, A Love Electric offers "Permanent Immigrant", a full length recording that is set to reveal itself throughout the fall, with the first offering being "This isTime", a wildly spoken word meets rock offering that recalls Captain Beefheart to Zappa to the instrumental heroics of King Crimson, in a less polished sound than the group's two most recent recordings. Clouser's lyrical offerings have always tilted towards poetry and denser concepts than popular music, and that commitment to his craft continues with the new recording.
The group's drummer and producer, Hernan Hecht, is a Latin Grammy Winner.