Songs from "Time is a Healer"
CHANT - Community made, community creating music
The primary purpose of CHANT is to provoke, and encourage
lasting participation in, cultural interaction. Our means is music, as
expressed by our common instrument, the voice. The way we express with
the voice, a chant, is a tradition found from the south of the USA to minstrel
song in Europe to slave song in the haciendas of Mexico to churches to
prayer in mosques, churches, synagogues, and places or worship
worldwide, regardless of denomination. Chant intends to transcend the illusory by
uniting people in creating music.
The crowd is invited to take the stage, becoming the band.
The Record 
With CHANT, prolific rock/jazz guitarist Todd Clouser reaches back to the days of American Prison song and Field Chant for inspiration. Part Clouser's signature wild guitar work, part street choir, and part beat story teller, CHANT is a concept record celebrating music's ability to create new community, featuring the duo drum work of Billy Martin and JT Bates. 

In recording CHANT, Clouser reached out to friends and strangers in his homes of Minneapolis and Mexico City, from his neighborhood garbage man to members of Mexico City's thriving creative music scene, in creating groups of singers. Recorded in studios in Minneapolis, New York City, the Peruvian Amazon amongst a family of shaman, and the streets of Mexico City, singers were directed in real time to chant over the tracks created by Clouser, Martin, and Bates. The result is a new community recording of 80 musicians and singers spanning up and down the Americas. 

On CHANT, language, genre, geography, and tradition collide in avant color with wild results.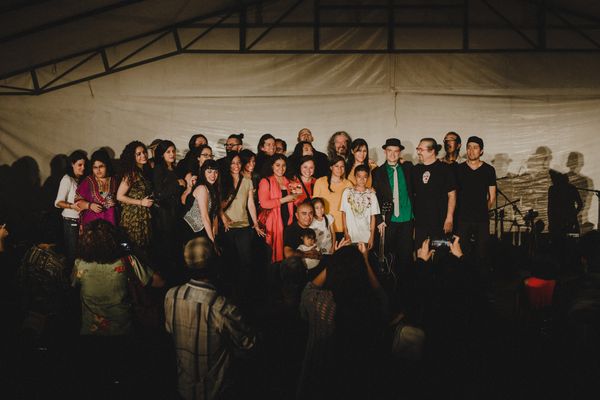 Todd talks CHANT :

This record is a celebration music's ability to create community. I began with a short chant and sketch of each song, recorded simply with a harmonium or guitar while out on tour. On a visit to Mexico City, Billy Martin recorded drum and percussion parts over my sketches - reacting without specific directions - in Hernan Hecht's studio. I had always hoped to one day hear Billy Martin and JT Bates, a friend from Minneapolis, play together, so I took the tracks up to Minneapolis and JT recorded on top of Billy at Erik Koskinen's studio. 
With drum tracks and my Chant sketches, James Buckley played upright bass and songs began to take form and develop clearer tonalities or harmony. 
I began inviting friends over to my apartment in Mexico City to record chants that I directed in real time, recording simply, with just a room microphone. It was mostly joy, the chant sessions. We would get together, people would often be nervous or skeptical, and by the end we were all signing and shouting and improvising. There were a few of these sessions in Mexico City at my home and places friend hung out, and a little jazz spot called Pizza Jazzz, and one in Minneapolis on a tour stop, where we had ages 7 to mid 70's in Greg Schutte's studio. 
With almost 60 people recording chants, I began to add guitars, pianos and more colors and the record became what it is, a big community of people and sound that trust, intrigue, and technology allowed to take shape.